Mayor John Cooper, Sen. Brenda Gilmore, Councilmember Freddie O'Connell, representatives from the U.S. Department of Housing and Urban Development (HUD) and several other elected officials joined the Metropolitan Development and Housing Agency (MDHA) for the ribbon cutting and grand opening of Randee Rogers Apartments, a 100-unit mixed-income development, including 50 NEW affordable apartments.
"Mixed-income housing gives its residents access: access to job options, grocery stores and high-performing schools. It represents security and upward mobility, and it lives up to our ideals of inclusion and community," said Mayor John Cooper. "In my time as Mayor, we have taken major steps to address Nashville's affordable housing needs, including directing five times the rate of investment to building and preserving affordable housing."
Randee Rogers Apartments features 50 new HUD-subsidized/affordable, 25 workforce and 25 market-rate apartments, consisting of one-, two- and three-bedrooms.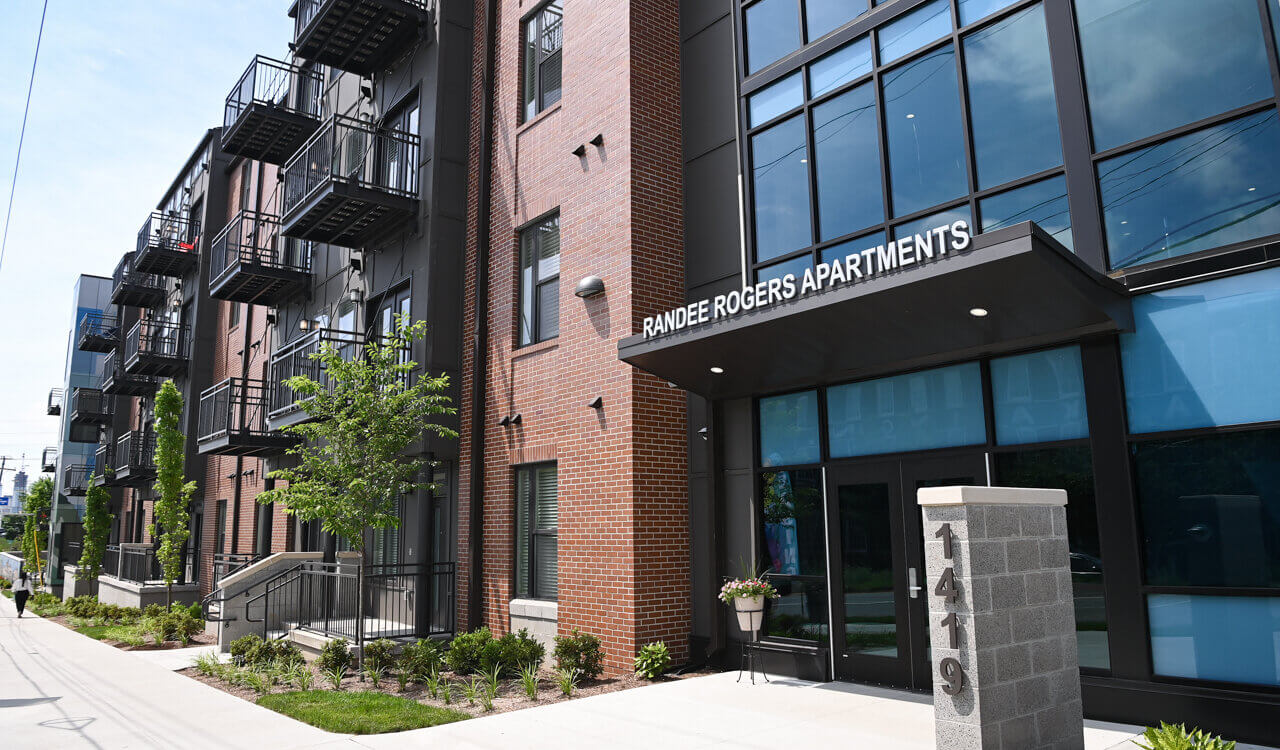 "Expanding the supply of subsidized housing in our great city allows us to serve even more of our neighbors in need," said Dr. Troy D. White. "Our goal is to create housing opportunities where every person who moves into one of our developments feels like they are a part of Nashville – one Nashville."
Amenities include an exercise room, community space, computer room, balconies or patios and secured parking.
"I moved into Randee Rogers Apartments a month ago, but I can already see the many benefits of living here," said Jowaune McKenzie. "The facilities are amazing, especially the fitness center, and to say the location is convenient is an understatement."
Located at 1419 Rosa L. Parks Blvd. in the Buena Vista community, Randee Rogers Apartments is within walking distance to downtown Nashville, many restaurants, Nashville Farmers' Market, Bicentennial Mall, the Tennessee State Museum and First Tennessee Park. There's also a grocery store next door and a bus stop at the corner of the property.
"Half of the units here at Randee Rogers Apartments are new affordable units, which is great news for Nashville and this community," said Sen. Brenda Gilmore. "I'm grateful to MDHA for bringing this mixed-income development to Buena Vista so Nashvillians of all incomes have the opportunity to live, work and play in this great city so close to downtown."
Randee Rogers Apartments is made possible thanks to a unique public/private partnership involving Metro, HUD, Tennessee Housing Development Agency (THDA), Boston Capital Corporation, Chase and MDHA.
"It is an honor to celebrate not only the 50 new additional affordable units, but also a new vision for Nashville that is mixed-income communities, which deconcentrate poverty and provide Nashvillians with more options for housing," said Councilmember Freddie O'Connell. "The number of partners involved in Randee Rogers Apartments who continue to express a commitment to this effort is truly extraordinary."
Randee Rogers Apartments replaced MDHA's Randee Rogers Training Center and maintenance shop. While the mixed-income property has brought new life to the site, MDHA incorporated some of its history into the new development.
Colorful murals that surrounded the former site, which were funded by Mark Deutschmann of Village Real Estate and created by artists with the help of MDHA youth in the community, were replicated and are now featuredthroughout the property.
MDHA has also continued to honor Randee Rogers, who was an MDHA employee and advocate for MDHA residents. In an effort to better understand the residents she was serving in her role as MDHA community organization coordinator, Rogers and her two daughters moved from their south Nashville home into MDHA's Historic Preston Taylor Apartments, which was then called Preston Taylor Homes.
Rogers said she felt "at home" at Preston Taylor Homes – a sentiment that new residents at the property bearing her name say they share.
"I love my new home, and I especially love my downtown view from my balcony," said McKenzie. "I'd like to thank MDHA and all the partners who had a hand in making Randee Rogers Apartments possible."