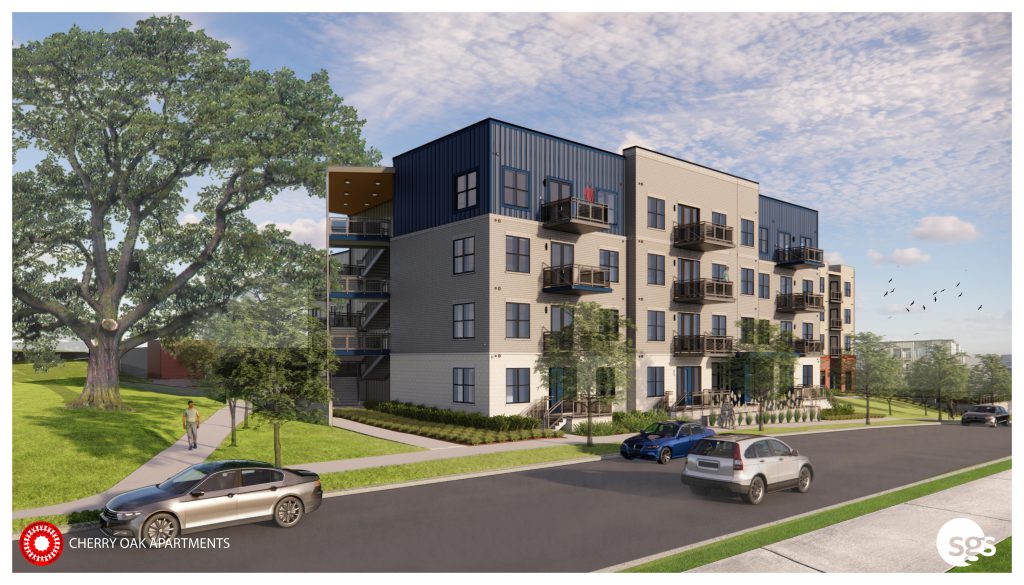 Mayor John Cooper, Councilman Brett Withers and representatives from the U.S. Department of Housing and Urban Development (HUD), Tennessee Housing Development Agency (THDA) and Amazon joined the Metropolitan Development and Housing Agency (MDHA) today for a groundbreaking of the next new mixed-income residential development at Cayce Place.
"MDHA's critical work redeveloping Cayce Place and creating mixed-income communities like Cherry Oak Apartments benefits all Nashvillians," said Mayor Cooper. "Together, we must get housing right, and I am committed to working with MDHA Executive Director Dr. Troy D. White through innovative approaches and policy tools so that we may replicate the success of this new development."
Located at 705 S. Sixth St. in East Nashville, Cherry Oak Apartments will feature 96 units – 45 subsidized for current Cayce Place residents, eight new affordable, six workforce and 37 market-rate apartments. It is the seventh new residential construction and sixth mixed-income development at Cayce Place.
Cherry Oak Apartments will have market-rate amenities including granite countertops, tile backsplash and patios or balconies. The four-story development will also feature a computer lounge, playground and greenspace.
"During a recent visit to the site of future development, I couldn't help but notice the view. You can see the older Cayce Place apartments, which will soon be the past, the beautiful townhomes and buildings are the 'new' present and the vacant land is the future," said Dr. White. "With views of the downtown skyline, every person who will call Cherry Oak Apartments their home will feel like they are a part of Nashville – one Nashville."
Late last year, Mayor Cooper invested in Cayce Place by committing $15 million in funds from the American Rescue Plan (ARP). Some of those funds will be used to support Cherry Oak Apartments. In addition, MDHA received nearly $9 million in Low-Income Housing Tax Credits, which are competitively awarded by THDA, as well as a $500,000 Tennessee Housing Trust Fund grant. Cherry Oak Apartments is the fourth development to receive funding from THDA. The development will also be supported by a $7.1 million low-interest loan from the Amazon Housing Equity Fund.
"It important that we provide funding to developments like Cherry Oak Apartments, and that we do it in a way that is flexible so that it marries well with other funding sources," said THDA Executive Director Ralph Perrey. "This is the fourth investment THDA has made in the redevelopment of Cayce Place, and we are committed to continuing our support of MDHA's initiative as they work to improve the affordable housing landscape in Nashville."
Last year, Amazon announced the Amazon Housing Equity Fund, a more than $2 billion commitment to create and preserve affordable homes for individuals and families earning moderate-to-low incomes in Amazon's hometown communities. Their announcement today to invest in MDHA's Cherry Oak Apartments is the first major contribution in Nashville.
"We recognize the importance of this work and we're excited to find strong partners like MDHA who have a long history of serving this community and providing safe and affordable housing for Nashvillians," said Amazon's Nashville Public Policy Manager Michelle Gaskin Brown. "This is just the beginning—we look forward to continuing our investment in Nashville and helping to create and preserve affordable homes so everyone has the opportunity to live, work and thrive here."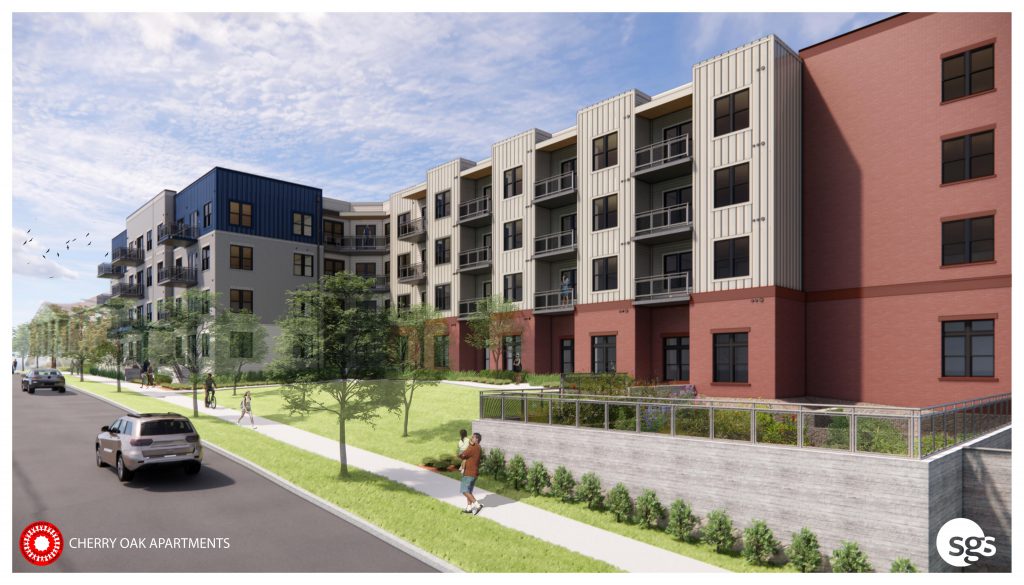 Cherry Oak Apartments is named in reference to a large Cherrybark Oak tree that sits on the footprint of this future development.
"The design of these new apartments that Smith Gee Studio created doesn't just work around this tree but makes it a highlight of this block," said Councilman Brett Withers. "This tree will beckon residents and visitors to explore the planned park that will extend through the heart of the campus and form the centerpiece and prime gathering place for one of Nashville's most inviting and uplifting neighborhoods."
Cherry Oak Apartments is scheduled to be complete in December 2023.
For more information on the redevelopment of Cayce Place, click here.