Mayor John Cooper, representatives from the U.S. Department of Housing and Urban Development (HUD) and the Tennessee Housing Development Agency (THDA), several officials, Cayce Place residents and stakeholders joined the Metropolitan Development and Housing Agency (MDHA) for a ribbon cutting to celebrate the three newest mixed-income residential developments for Envision Cayce.
"Today's celebration is an important milestone for the future of Cayce Place," said Mayor Cooper. "These beautiful new apartments and townhomes feature top-tier amenities and unbeatable views of our city skyline. Best of all, they've been built for residents of all incomes, families of all sizes and Nashvillians of all different backgrounds to help create a more inclusive and equitable community."
Mosley on 6th was completed early last year. The three four-story buildings are home to 96 families of all incomes. Manning Place, which is made up of two apartment buildings and 13 townhomes, is home to 101 families of all incomes. It was completed last spring. These two neighboring developments were built by Hardaway Construction and designed by Kline Swinney Associates. Amenities include covered parking, a playground and market-rate amenities.
Red Oak Flats was completed in February of this year. The four-story building, built by R.G. Anderson Company and designed by EOA Architects, features 102 apartments, covered parking, a large courtyard and a playground.

"COVID-19 may have halted the celebrations of these three new developments, but it did not stop construction," said MDHA Interim Executive Director Saul Solomon. "Two-hundred and 99 new mixed-income apartments have been completed since early last year, creating a community where individuals and families of all backgrounds, incomes and views can live together on the same, unifying foundation – a foundation that supports and elevates all.
All three developments are being financially supported by Pinnacle Financial Partners, as well as HUD, which is continuing to provide funding for the 140 subsidized apartments, and THDA through Community Investment Tax Credits and Low-Income Housing Tax Credits, which are competitively awarded.
"THDA is proud to support these developments that are crucial to improving the landscape of affordable housing in Nashville," said THDA Executive Director Ralph Perrey. "This was a work that truly involved vision, and there is no other city in America that is attempting anything nearly as ambitious to repurpose its subsidized housing."
The new mixed-income residential developments are part of MDHA's ambitious effort to transform Nashville's largest and one of its oldest subsidized housing properties. It began in 2013 with a 16-month planning process, which involved Cayce Place residents, neighbors and stakeholders.
Out of that planning came the Envision Cayce Master Plan, which calls for a mixed-use, mixed-income community of more than 2,000 units and ensures a one-for-one replacement of all subsidized housing units while adding new affordable, workforce and market-rate housing.
"I have enjoyed watching Cayce Place residents move into brand new apartments and townhomes that are the envy of all of East Nashville," said Councilman Brett Withers. "I have seen how this change of scenery has changed lives, and I can't wait to see what's next."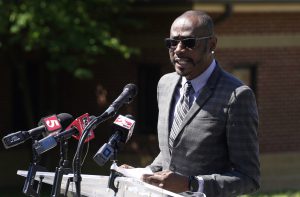 Nashvillians have embraced the Envision Cayce model, including Mosley on 6th Resident Melvin Smikes who fully supports the mixed-income aspect of the Plan.
"I've wanted to be a part of the community ever since I first learned about MDHA's plan to transform its subsidized housing into mixed-income developments," said Smikes. "It is a great place to live. I absolutely love my home, and my neighbors are great."
Since the start of Envision Cayce, MDHA has completed 463 apartments. An additional 44 apartments are currently under construction. Construction is set to begin on the next development by the end of the year.