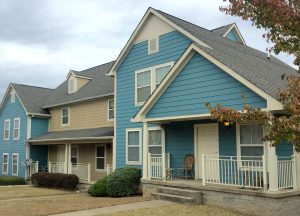 The Metropolitan Development and Housing Agency (MDHA) will open its market-rate waiting list for Historic Preston Taylor Apartments on a first-come, first-served basis from noon Thursday, April 8, 2021, until 3 p.m. Thursday, April 15, 2021.
The market-rate apartments are for households earning at least 80% of the Area Median Income (AMI). 
The market-rate units at Historic Preston Taylor Apartments feature one-, two- and three-bedrooms. 
See below for market-rate pricing: 
One-bedroom apartment – $794 a month
Two-bedroom apartment – $982 a month
Three-bedroom apartment – $1,274 a month
Historic Preston Taylor Apartments is located in North Nashville at 3900 Clifton Ave.
Applications for the market-rate apartments will be accepted online only and can be submitted 24 hours a day during the open application period at www.nashville-mdha.org (click on the button that says Apply for Housing). Applicants will be required to pay a $15 application fee per adult (defined as individuals 18 and older at the time the application is submitted) in the household when applying online.
The application is simple and takes approximately 10 minutes to complete. Once an application is submitted, applicants will receive an email confirming that the application was submitted successfully.
Anyone needing assistance may call the management office at 615-252-3680 (choose option 3 when prompted) between noon and 3 p.m. Thursday, April 8, 2021. Assistance is limited to calls due to the COVID-19 pandemic.