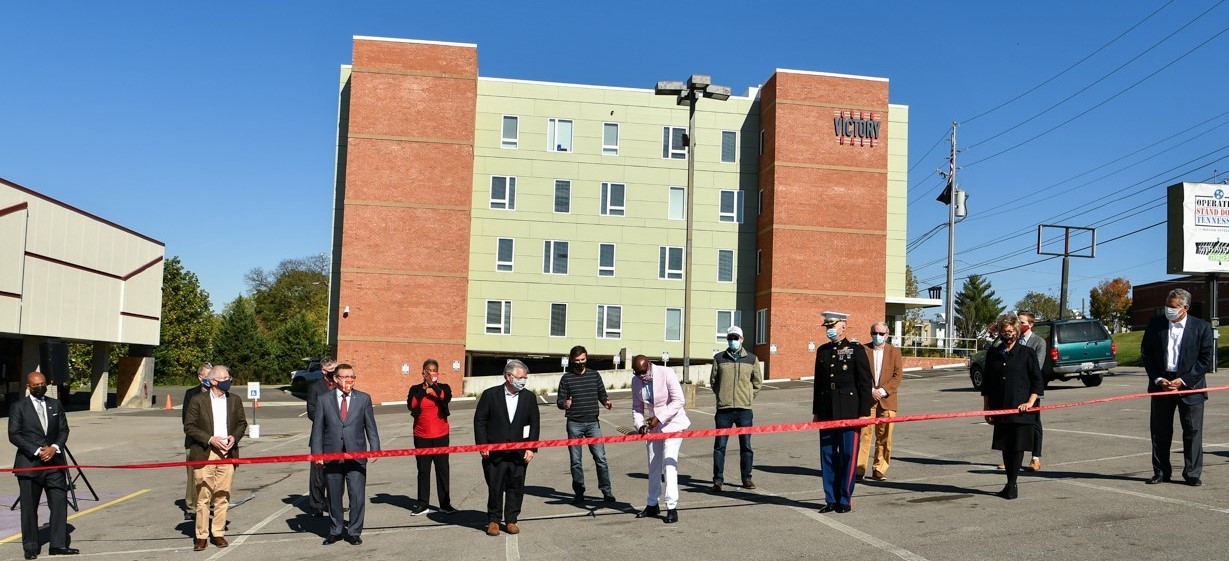 The Metropolitan Development and Housing Agency (MDHA) hosted a ribbon cutting and grand opening celebration for Curb Victory Hall, an affordable housing development for Veterans experiencing homelessness.
Curb Victory Hall is the result of a unique public/private partnership involving MDHA, Giarratana LLC, Operation Stand Down Tennessee (OSDTN), the Tennessee Housing Development Agency (THDA), music industry executive and philanthropist Mike Curb, the Tennessee Valley Healthcare System (TVHS) – VA and the Mayor's Office.
The 39-unit development is located on 12th Avenue South next to OSDTN, which is offering wraparound services such as benefits and employment assistance to the Veterans who call Curb Victory Hall home.
Thirty-seven of the 39 apartments will house the men and women who dedicated their lives to serving our country. The two remaining apartments are set aside for service providers, one of which is already occupied.
"Today is another opportunity to celebrate our city's commitment to Veterans. Curb Victory Hall is another step in our effort to build homes for heroes," said Mayor John Cooper. "This model stands out because it brings the public and private sectors together – not only to support Veterans with housing, but also to place organizations that provide other, wraparound support right in the building and next door."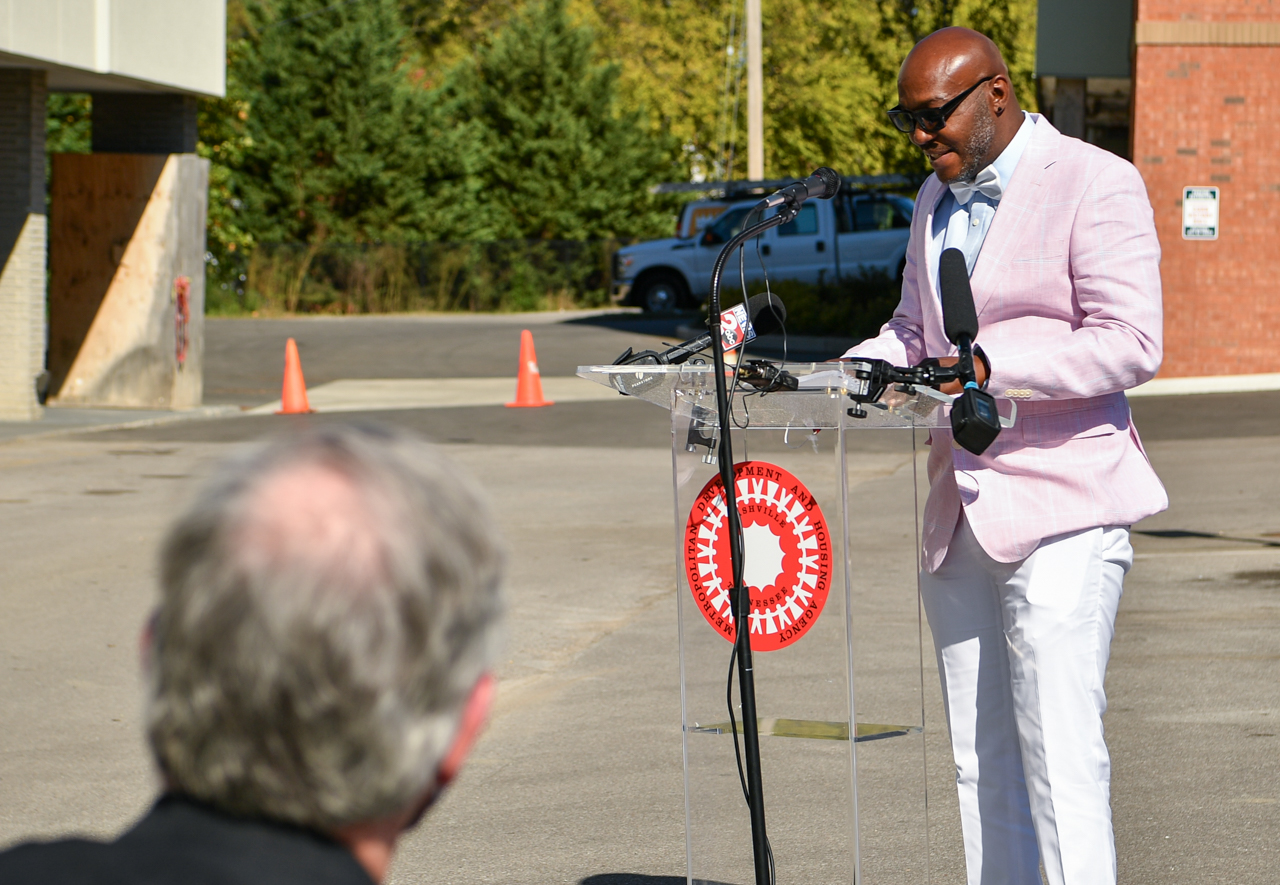 Curb Victory Hall opened its doors last month and is currently home to 14 Veterans, including Private Rico Thompson who joined the U.S. Army after 9/11. Thompson served a combined five years – both active and in reserve, but he fell on hard times after a recent health issue and ended up homeless.
"For the last several months, I was so focused on where I was going to stay and how I was going to maintain it," said Private Rico Thompson. "Now that I have permanent housing, affordable housing, I can now focus on other things like my health and finding a part-time job. That's why Curb Victory Hall is such a blessing. It's just amazing to have my home here and services here at our fingertips."
"Curb Victory Hall is one of the most impactful initiatives for Veterans experiencing homelessness that I can remember, and Operation Stand Down is proud to provide services that will improve the lives of our new neighbors," said former OSDTN CEO John Krenson. "Curb Victory Hall provides the proverbial pot of gold at the end of the rainbow – permanent affordable housing, and it is a model for others. The brainchild of Tony Giarratana, it came to life not only through his leadership but through the teamwork of all of the partners."
"It was heartbreaking to learn from John Krenson that 250 Veterans experiencing homelessness eligible for subsidized housing were sleeping under bridges because of a lack of affordable housing," said Giarratana LLC President Tony Giarratana. "My wife, Lisa, and our Giarratana Development team were thrilled when so many partners came together to make this a reality. Curb Victory Hall provides quality housing to nearly 40 Veterans, but we must not forget about the Veterans who are still experiencing homelessness. Our hope is that Curb Victory Hall will serve as a prototype for additional Victory Halls in the near future."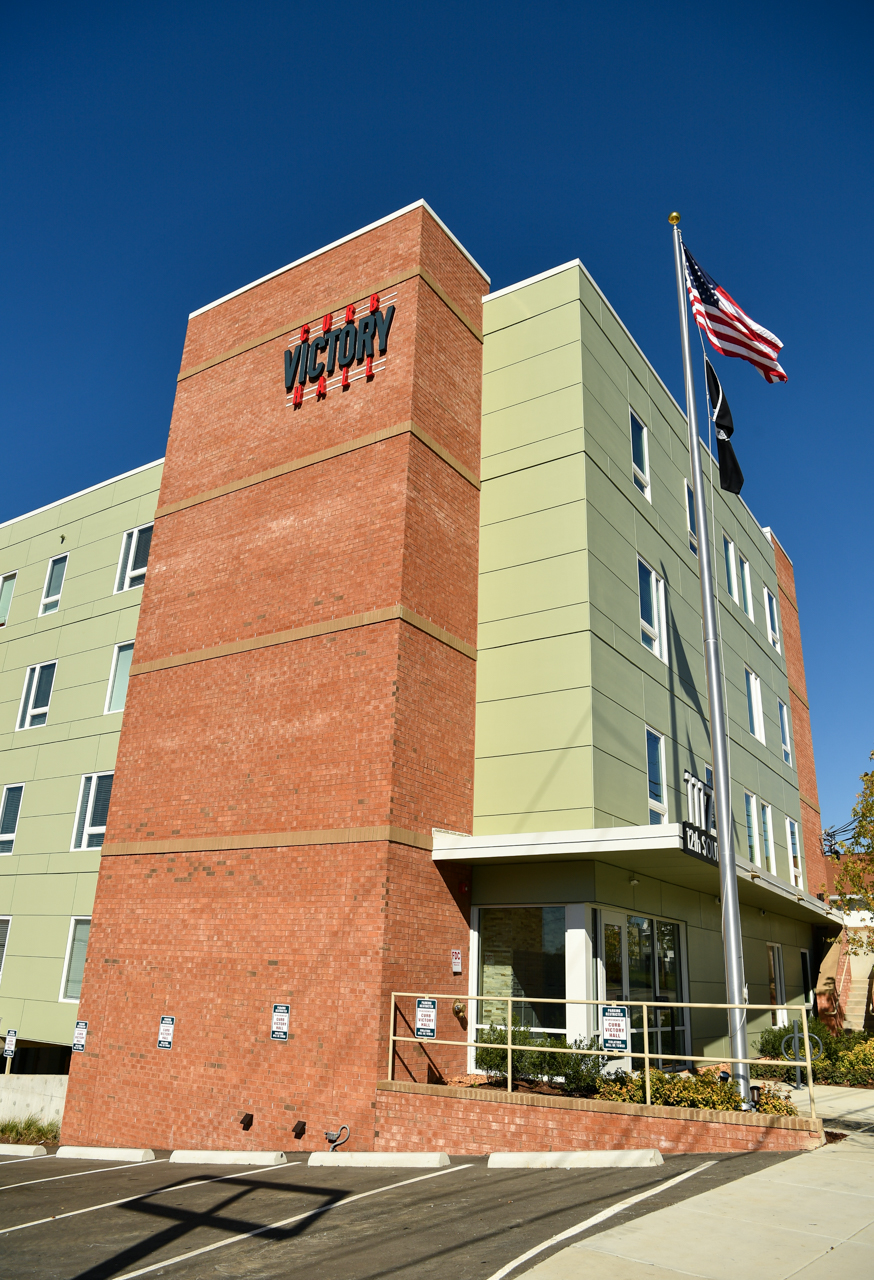 Financing was largely made possible thanks to a $500,000 grant from Curb Records Founder Mike Curb and a 9% Low Income Housing Tax Credit awarded by THDA earlier this year. In addition, the development received a $500,000 Tennessee Housing Trust Fund Grant from THDA.
"Curb Victory Hall represents a significant milestone in Nashville as we work to address the rising population of Veterans experiencing homelessness," said THDA Executive Director Ralph Perrey. "THDA was honored to be involved in this project that is dedicated to the men and women who have served our country so bravely."
The U.S. Department of Housing and Urban Development (HUD) Veterans Affairs Supportive Housing (VASH) vouchers are being utilized here. These vouchers are administered by MDHA in partnership with the Tennessee Valley Healthcare System (TVHS) – Veterans Affairs, which is assisting MDHA with identifying residents. HUD is funding the vouchers.
MDHA is also managing the development, which features covered parking, stainless steel appliances, granite countertops and custom closets donated by California Closets – Nashville.
"As a Veteran, Curb Victory Hall certainly hits home for me personally," said MDHA Executive Director Jim Harbison. "Curb Victory Hall is the result of many hands working together to improve the lives of Veterans in need. I couldn't be more proud to be a part of this one-of-a-kind initiative that honors the great men and women who served our great country."
MDHA staff hope to fill the remaining apartments by the end of the year.
Thompson said he's excited to meet his future neighbors, and he is thankful to be part of the Curb Victory Hall family.
"I would just like to say from the bottom of my heart to everyone involved – thank you. Thank you so much for making your dream our reality."
Click here to watch the Curb Victory Hall ribbon cutting and grand opening event.
COVID-19 health measures as recommended by the CDC and Metro Public Health Department were practiced during this event, including limiting the number of in-person guests to 25 people. Social distancing measures were in place and all attendees were required to wear a mask unless they were speaking at the podium.