For two years now, our Cheatham Place youth have spent every school break attending the MyCanvas Youth Community Arts program at the North Nashville property.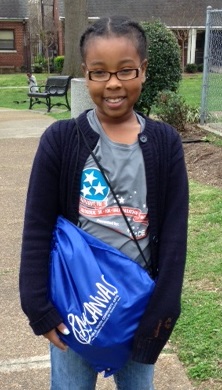 "I've been coming since the beginning," said 9-year-old artist Sydney Thompson. "I've got to create lots of things like a superhero made out of duct tape. I chose Wonder Woman."
So when Council Lady and Jefferson Street United Merchants Partnership (JUMP) President and CEO Sharon Hurt approached us about creating art for our Jefferson Street construction site, we knew who to turn to.
With the help of Lutheran Services in Tennessee Inc. and Heal with Heart, LLC, the Cheatham Place youth created eight murals in four days during their spring break in March.
"It's been a lot of fun, and it's been my favorite project so far," said Sydney, as she painted one of the murals.
On April 20, we honored our Cheatham Place youth with a special unveiling ceremony on Jefferson Street. MDHA Executive Director Jim Harbison kicked off the celebration by thanking our youth.
"I got a sneak peak at the finished project, and you guys did awesome," said Harbison. "This is going to be a wonderful addition to our construction site and to the North Nashville community."
The kids were surrounded by many supporters including Alandis Brassel from Congressman Jim Cooper's office, Sharon Hurt, District 19 Councilman Freddie O'Connell, community

members, Cheatham Place residents, MyCanvas volunteers and staff, MDHA board members and staff.
Staff from Levine & Poor, Inc. hung the eight murals on the fence of our construction site at 941 Jefferson Street, and the youth are beyond excited.
"It feels so good to have something I created for everyone to see," said Sydney. "I'm kind of famous."