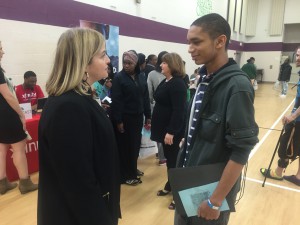 The Office of Mayor Megan Barry, MDHA and the local ConnectHome partners kicked off a new pilot program Saturday, April 2 to help bridge the digital divide in Nashville. This pilot program will provide 100 families at Cayce Place, who have school-aged children, internet through Comcast's high-speed internet adoption program, Internet Essentials.
Nearly 40 families enrolled in the program at the kickoff celebration at Martha O'Bryan Center, which included food, door prizes and a motivational message from Derek Young of Nashville.
After enrollment, Cayce Place families will be required to attend two digital literacy sessions. Upon completion, they will receive a rebuilt Dell laptop and free internet service for one year.
The Office of Mayor Megan Barry and MDHA are grateful for the support of the local partners including The Community Foundation of Middle Tennessee, Comcast, Electronic Responsible Recyclers (ER2), Google Fiber, Martha O'Bryan Center, Metropolitan Government of Nashville and Davidson County, Metropolitan Nashville Public Schools (MNPS), Nashville Public Library, Nashville Public Television (NPT) and Nashville Technology Council (NTC).
About ConnectHome
On July 15, 2015 the Obama Administration and the U.S. Department of Housing and Urban Development (HUD) announced the ConnectHome initiative that will help close the digital divide in America. The program will expand high-speed broadband internet to more than 275,0000 families living in HUD-assisted housing in 28 communities, including Nashville.