The Metropolitan Development and Housing Agency, on behalf of the city of Nashville, has been selected as a recipient of the 2016 Audrey Nelson Community Development Award by the National Community Development Association (NCDA).
The award honors communities which exemplify outstanding achievement in service to neighborhoods and low-income residents through their innovative and exemplary use of Community Development Block Grant (CDBG) Program and the HOME Investment Partnerships Program funds. MDHA administers these funds awarded by the U.S. Department of Housing and Urban Development (HUD) on behalf of the Metropolitan Government of Nashville and Davidson County.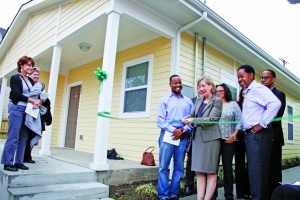 MDHA nominated a HOME-funded project on Second Avenue South developed by New Level Community Development Corporation (CDC). The project consists of eight one-bedroom units and provides permanent supportive housing for chronically homeless individuals receiving services through various partner agencies.
NCDA will recognize the winners at 12:30 p.m. Jan. 22 during the NCDA Winter Conference at the Holiday Inn Capitol Hill, 550 C Street SW in Washington D.C. MDHA Director of Community Development Angela Hubbard and New Level CDC Executive Director Kay Bowers will be on hand to accept the award.