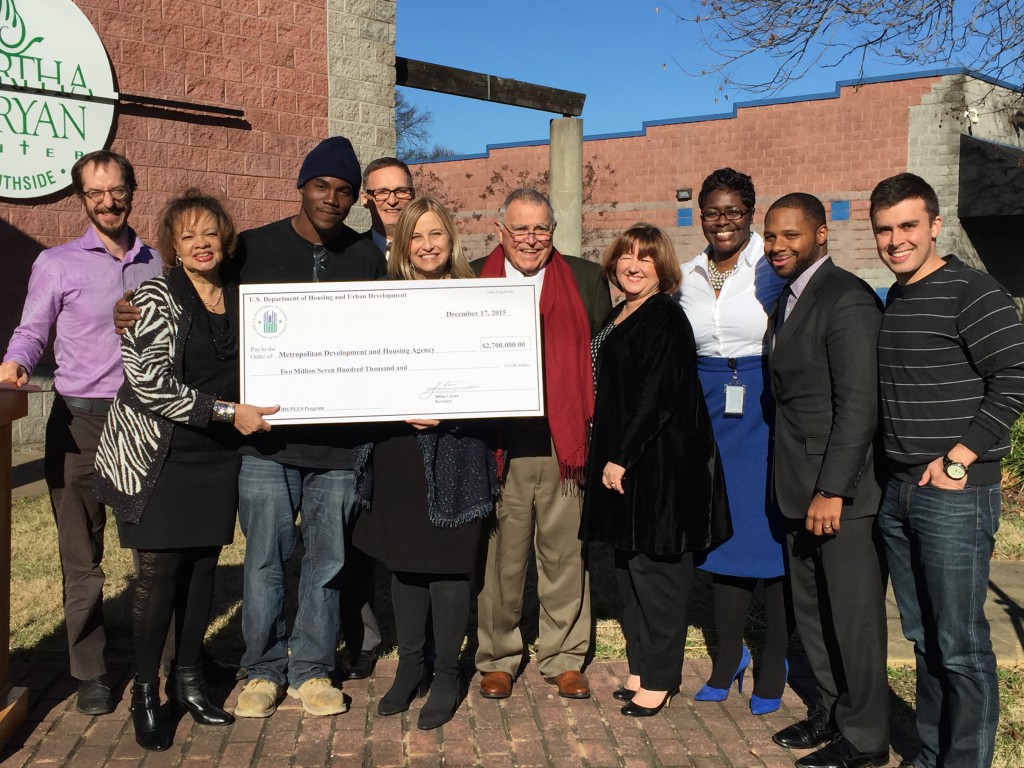 Nashville Mayor Megan Barry and Executive Director Jim Harbison of the Metropolitan Development and Housing Agency joined the U.S. Department of Housing and Urban Development (HUD) Dec. 17 at the MDHA Enterprise Center for a major funding announcement related to increasing job opportunities and financial literacy for public housing residents.
"I'm so very pleased to be here today to announce that the Metropolitan Development and Housing Agency is being awarded $2.7 million to launch a Jobs Plus program in the Napier Place and Sudekum Apartments neighborhood," said Sernorma Mitchell, Nashville Field Office Director for the U.S. Department of Housing and Urban Development. "This is one of only nine competitive awards totaling $24.3 million being announced today across the country."
The first part of the Jobs Plus program will be offered by Nashville Career Advancement Center and Martha O'Bryan Center Southside. Residents between the ages of 18 and 64 will receive an intense, six-week training in workforce development.
"This grant is going to help public housing residents find higher paying jobs and help them become self-sufficient," said Mayor Barry. "That is such great news for our city because when all of our residents are successful, Nashville is successful."
After completion of the six-week training, Martha O'Bryan Center will offer ongoing case management, which includes connecting residents to community services such as transportation assistance, daycare and social services.
"MDHA's social services coordinators work diligently to help residents achieve success. The Jobs Plus grant expands on their efforts," said Jim Harbison, MDHA executive director. "MDHA is not about just bricks and mortar. We're about providing opportunities, and that is exactly what this grant will do."
The Jobs Plus program also offers public housing residents a chance to earn a higher wage without having to pay more rent. Residents who complete the training course will earn one month of free rent. After that, participating residents receive 12 months of Jobs Plus Earned Income Disallowance, which means their rent will not increase. Every month after 12 months, rent is assessed at 30 percent of their income. The rent increase will be deposited into an escrow account for the duration of the program. Residents can apply to withdraw the money once a year or at the end of the four year program.
This process encourages residents to maintain employment. While there are no restrictions on how residents spend the money, the Mayor's Financial Empowerment Center will offer workshops and one-on-one financial counseling, which will encourage budgeting, reducing debt and improving credit.
"All of our residents need hope, and this grant is going to make that possible," said Mayor Barry.
Martha O'Bryan Center Southside has been working closely with Napier Place and Sudekum Residents since it moved into the MDHA Enterprise Center in August. Staff has already witnessed many success stories.
"A job is self-respect for a father. A job is a mother's ability to say yes when her child wants a book at the school book fair. It is really pride that first day of school walking to school in new shoes with a backpack full of supplies," said Marsha Edwards, president and CEO of Martha O'Bryan Center. "That's what a job means."
Edwards said staff will go door-to-door many times to get participants for the program, which is scheduled to begin in January 2016.