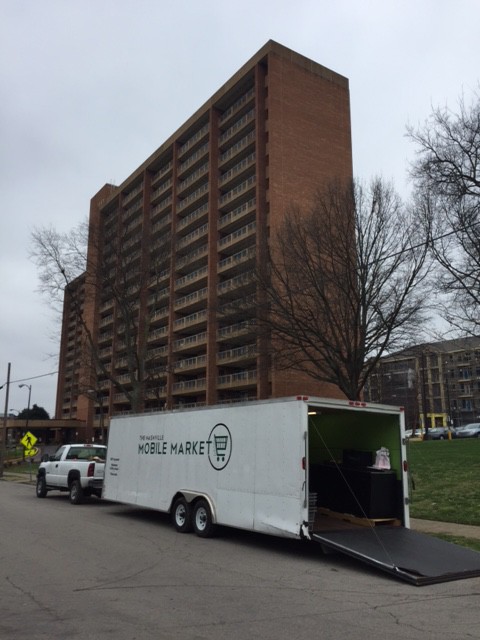 Like clockwork, the Parthenon Towers lobby fills with large crowds every midday Thursday. Hands sift through plastic baskets full of potatoes, mushrooms, broccoli, tomatoes and other harvests.
"I really like this service. It is cheaper and more convenient to come downstairs than to walk," said Martha Kruger, who sometimes walks three blocks to the nearby Piggly Wiggly. Today she pulls out cash to pay The Nashville Mobile Market $2.38 for bananas, celery and a cucumber.
The Nashville Mobile Market is putting low-cost fresh fruits and vegetables within reach of public housing residents and Nashvillians living in food deserts, where many people have low incomes, limited transportation options and few nearby grocery stores.
Click here to view NewChannel 5's broadcast.
"Spinach is my favorite. The prices are excellent and right within our budget. It is very convenient. Since the market has been coming here, I have been eating healthier foods. I am able to buy in quantities to cook and freeze. I really enjoy it," Mary Bradley said.
A Vanderbilt resident physician began the pantry program in 2009, and the university pushed the cart to nonprofit Community Food Advocates last summer. The Nashville Mobile Market makes 58 stops monthly at 32 partner sites, including 10 Metropolitan Development and Housing Agency properties. The market sends a monthly list of produce and prices to each site in advance, allowing its customers, many of whom are on fixed incomes, to budget and prepare grocery lists. It also sells heirloom vegetable and herb seeds and seedlings, encouraging its customers to have window seal gardens. The market takes cash, debit cards and Supplemental Assistance Nutrition Program's Electronic Benefit Transfer cards.
"There is a need we are trying to meet for them. Where there traditionally are challenges that are going unmet," said Ambassadors Program Coordinator Jason Goodrich, who oversees the market for Community Food Advocates. "We are trying to make fresh goods accessible and affordable."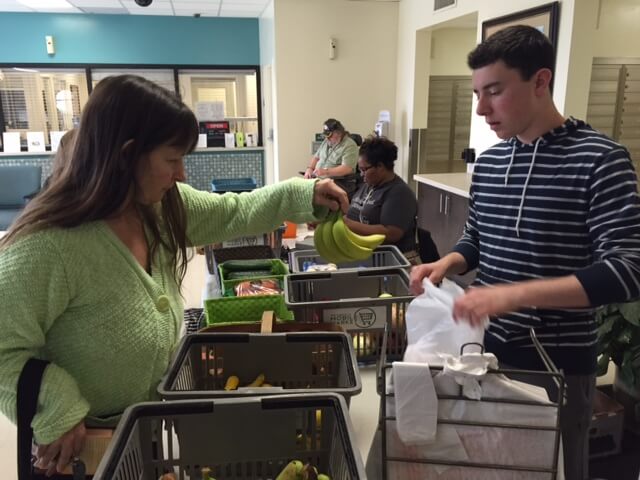 Goodrich purchases food wholesale, compares prices at area grocery stores and prices Nashville Mobile Market produce on the low end. When customers complained the lines were too long and checking out was a burden, the market ditched scales and reworked prices per item instead of per pound.
Community Food Advocates also has hosted educational workshops at Parthenon Towers to teach residents healthy recipes and to make nutritious choices, like choosing a baked potato over French fries.
"We have residents that have mobility issues and some do not have transportation, so it is a service to our residents and helps them with nutrition needs. Our residents look forward to it every week," said Property Manager Audrey Abbott.
Betty Lloyd, who uses an oxygen tank, has struggled to carry as many as 10 sacks of groceries on public transportation from a Publix three miles away to her apartment at Parthenon Towers.
"I love the opportunity to be able to come down to the lobby and buy vegetables. It helps me more than you'll ever know," Lloyd said.
The market's presence at MDHA properties is mutually beneficial, Abbott said. Needing the help of volunteers to load and unload produce from the truck and each stop, the market gives residents an on-site opportunity to meet their monthly community service requirements.