In effort to provide a safe night of Halloween fun for residents, the Metropolitan Development and Housing Agency's Edgehill Apartments Resident Association hosted its fourth annual Edgehill Family Halloween Sports Night on Oct. 31 at the Easley Community Center.
"It is a good event to have because for over 20 years we didn't have a Halloween event for the children. A few years ago the residents decided that to have an event of our own would be a great way for us to keep the kids safe," said longtime Edgehill Apartments tenant and resident association president Brenda Morrow. "With the help of students we are able to have a lot of activities, and parents and their children really enjoy it."
Edgehill Apartments Resident Association, Edgehill Family Resource Center, Metro Parks and Recreation and Belmont University's Bridges to Belmont Scholars partnered to host the event, which was free and open to the public. In 2011, a walking club of Edgehill residents, Belmont Greek-letter organizations and student athletes pioneered the Halloween celebration, restoring to the community organized trick-or-treat fun that its youth hadn't seen in several years. Since then, hundreds of Edgehill residents, students and other community neighbors have attended the outdoor Halloween party each fall.
"It is a good project for the students because they are really committed to giving back to the community. And with Rose Park being so close to Belmont, it is a good fit. The philosophy of Belmont is to give back."

Bridges to Belmont Director Mary Clark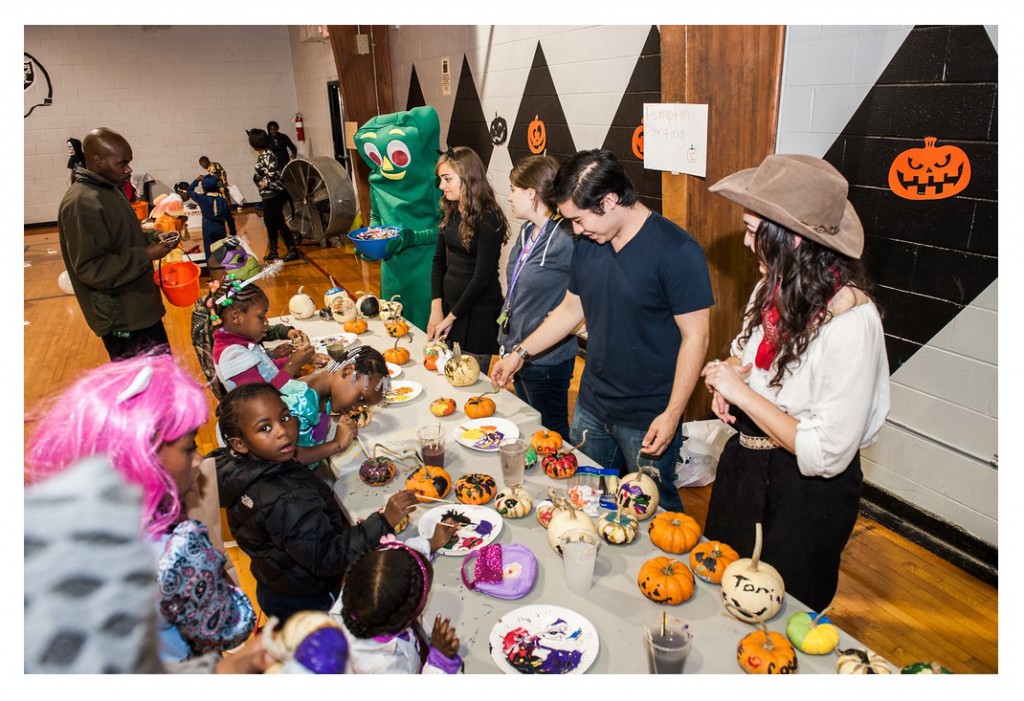 Children wore costumes, and student volunteers helped them design trick-or-treat bags. They also enjoyed candy, fruit snacks, granola bars, face painting, pumpkin painting, ring toss, three-leg relay races, a mummy wrap contest and dancing as well as a dinner of hotdogs and potato chips. Edgehill Apartments resident Sonya Moore said, "I am grateful for this event because it provides a safe environment for my daughter and the hundreds of other children who live in the community. It keeps them out of danger, and they have fun. It's a very positive atmosphere."
Edgehill Property Manager Thomas Corritore said the event brings the community together. A public housing property on 12th Avenue South, Edgehill is home to 380 families.
"It shows that we care," he said. "This is about trying to give back to the kids so they have a good safe time without having to worry."