Willie "Peaches" Manning, a longtime community liaison for the Metropolitan Development and Housing Agency, died Saturday. She was 77. "Peaches was a great ambassador for MDHA and was respected by everyone who knew her," said MDHA Director of Asset Management Jerry Seay. "The work she did for nearly four decades at MDHA had a significant impact on public housing residents."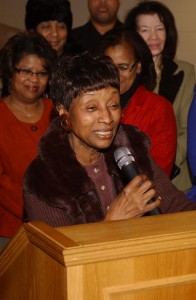 Ms. Manning began serving MDHA as a child development aide in 1977 and became resident association coordinator two years later. In her role, she managed resident associations at 19 public housing properties to promote a sense of community and neighborhood involvement among Nashvillians.
A native of Nashville and Pearl High School alumna, Ms. Manning had many friends in the city, particularly in public housing where she became a mother to many residents.
"She befriended me first and then treated me like a son. If she saw me staring to the right while I was supposed to go left, she would give me a little tap," said J.C. Napier Resident Association President Michael Mooney. "She loved everybody with her soft voice and gentle spirit. I had a lot of respect for her and loved her."
Edgehill Apartments Resident Association President Brenda Morrow said, "Ms. Peaches taught me the listening skills it takes to get to the root of a problem and understand what concerns a resident. She was just such a good mentor."
Assistant Director of Asset Management Connie Martin said she remembers Ms. Manning often saying, "If I can help somebody, then my living shall not be in vain," which she once sang at a staff meeting.
"And her life has demonstrated she has not lived in vain," Martin said.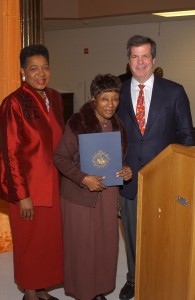 In 2012, Ms. Manning was inducted into the Hall of Fame for the Lydia Society, a coming of age organization designed to educate teenage girls living in public housing, during its Trumpet Ball. The ladies in the program selected her because of her work in the community, especially her development of a scholarship program for them to attend summer camps, said Social Services Coordinator Michael Green, who oversees the society.
"Peaches was an extraordinary woman. Anyone she came in contact with was escalated by her presence because she found self-worth and dignity in everyone," Green said.
Before joining MDHA, Ms. Manning worked as a switchboard operator for Meharry Medical College and later as a pediatrician's receptionist. She also was known for her service on the Greater St. John Missionary Baptist Church mother board.
Ms. Manning is survived by her daughters, Deborah Marshall and Ernestine Swafford, as well as 12 grandchildren.
She will lie in state from 1 to 6 p.m. Friday and 9 to 11 a.m. Saturday at Greater St. John Missionary Baptist Church, 2200 26th Ave. North. Visitation will take place at the church at 11 a.m. Saturday, and the funeral will immediately follow at noon. Mayor Karl Dean, District 19 Councilwoman Erica Gilmore, Criminal Court Clerk Howard Gentry Jr., former MDHA Executive Directors Gerald Nicely and Phil Ryan and MDHA Director of Asset Management Jerry Seay are among the scheduled speakers at her funeral.