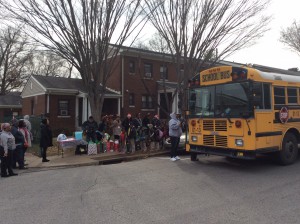 Park Avenue Enhanced Option Elementary School students living in Andrew Jackson Courts will have a warmer winter break, thanks to the community's donation of 30 coats. Residents in the property's leadership te
am identified children in need and distributed coats Dec. 19 at the kids' bus stop
"I just want to make a difference with the kids," said resident Brenda Armstrong, whose 6-year-old grandson is among the children who catch the school bus in front of her apartment. When she noticed their rowdiness while waiting for the bus, she offered them snacks and certificates to encourage better behavior. 
"I want the kids to know there is a better way of life than what they are experiencing," Armstrong said. "I want them to know being obedient and paying attention pays off."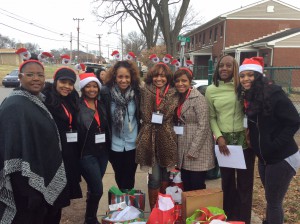 Since she spends so much time with the children at the bus stop, Armstrong said she noticed many of them did not have enough clothing to stay warm as weather cooled. In November, she collected $1 from her friends and neighbors to purchase gloves and hats. She and other residents on the Andrew Jackson leadership team decided they needed coats too, and MDHA Social Service Coordinator Yvette Moore corralled her friends and a few coworkers for donations.
"I appreciate Ms. Brenda Armstrong for her dedication and being able to identify the immediate needs of our kids. The event was a huge success, and Ms. Armstrong definitely proved the importance of being an effective leader in her community," Moore said.
The coats, a surprise to the children and their parents waiting at the bus stop, brought resident Italia Nance to tears. Her 4- and 6-year-old sons are among the children who catch the bus at the corner of 17th Avenue North and Jackson Street.
"It's so hard being a single mother and struggling," Nance said. "I am proud my babies are excelling in school now."