The Metropolitan Development and Housing Agency has released the results from Nashville's 2023 Point-in-Time Count, a one-night count of sheltered and unsheltered persons experiencing homelessness. The total number of persons experiencing literal homelessness documented the night of the Count was 2,129, an 11% increase from 2022.
The Count was held on the evening of Jan. 26 and the early morning hours of Jan. 27. The temperature dropped to around 30 degrees during the Count, activating Nashville's Cold Weather Plan and prompting the opening of the Metro Social Services Extreme Cold Weather Overflow Shelter, which was not done in 2022 when the temperature was around 34 degrees the night of the Count. This drop in temperature helps to account for the 11% increase from 2022, as more people experiencing homelessness seek out shelter and do not need to be located outdoors by partners and volunteers. In addition to the Metro Social Services Extreme Cold Weather Overflow Shelter, Room In The Inn and Nashville Rescue Mission operated their shelter programs and counted people staying with them during that night, streamlining the process.
"The PIT Count gives us a great snapshot of trends as it relates to homelessness and the quality of life of our Nashville neighbors. As we move forward with our Housing First Initiative, reviewing data such as this is vital for a data driven approach," said Metropolitan Government of Nashville and Davidson County Director of the Office of Homeless Services April Calvin. "In a post pandemic era and an affordable housing crunch, we know that the road ahead is long, but we are inspired by; the city's historic $50 million investment in addressing homelessness, expanded resources, improved collaborative spirit of the community and gains that we've made in recent months – moving our neighbors from outdoors to safe places they now call home."
The U.S. Department of Housing and Urban Development (HUD) requires Continuum of Care (CoC) organizations across the country to conduct a Count each year during the last 10 days of January. As the CoC Collaborative Applicant in Nashville, MDHA conducts the Count in collaboration with the Metro Homeless Impact Division, Tennessee Valley Healthcare System, Mental Health Cooperative and other partners. More than 100 volunteers from 32 agencies and universities took part in this year's Count.
"Months of planning are required for the Count each year," said MDHA Executive Director Dr. Troy D. White. "This process continues to go smoothly thanks to the MDHA staff, the partners and the many volunteers involved from start to finish."
Additional key findings from the 2023 Count include:
67% of the adult population experiencing homelessness on the night of the Count were men;
45% of the adult population experiencing homelessness on the night of the Count were Black or African American;
79% of unsheltered individuals reported having a disability;
62% of unsheltered people surveyed are experiencing chronic homelessness;
50% of unsheltered individuals reported a history of substance use;
48% of unsheltered individuals reported mental health needs;
17% of unsheltered individuals reported fleeing domestic violence.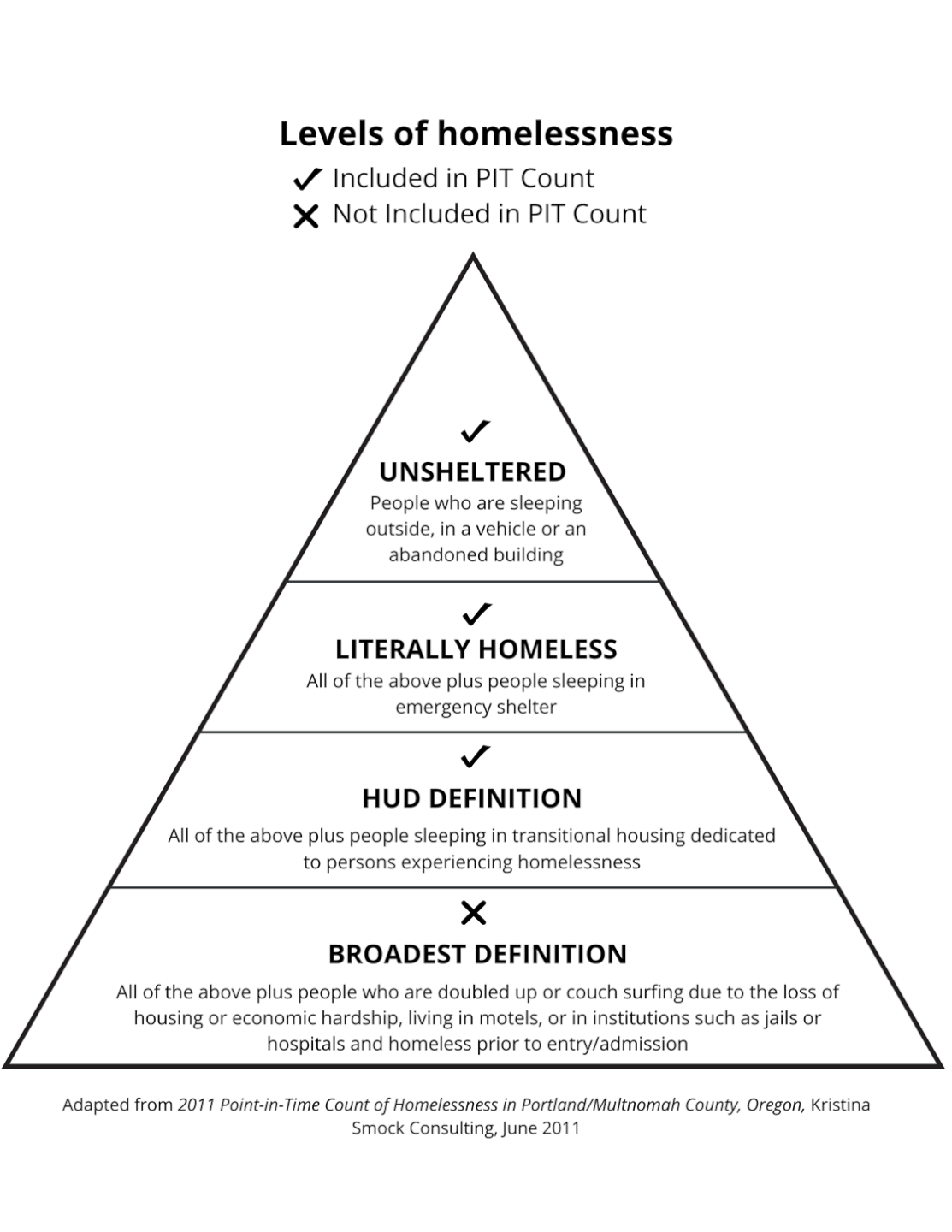 The Count is important in establishing some dimension of homelessness and is one of a variety of sources of data needed to tell the whole story of homelessness, but the method is not without limitations. The numbers represent a point-in-time snapshot and do not reflect the true extent of homelessness over an entire year.
The top three sections in the graphic to the left illustrate the populations that are included in the Count. The unsheltered includes persons experiencing homelessness who were seen by volunteer teams the evening of Jan. 26 and early morning hours of Jan. 27, 2023.
Literally homeless as defined by HUD includes beds dedicated for persons experiencing homelessness at emergency shelters programs such as the Nashville Rescue Mission, Room In The Inn, Community Care Fellowship, Launch Pad, Metro Social Services, Morning Star Sanctuary, Oasis Center for Youth, Operation Stand Down Tennessee (OSDTN), Safe Haven Family Shelter and YWCA of Nashville.
Here's How You Can Help
Volunteer with a community partner who serves people experiencing homelessness. To find information about homeless services providers, visit www.wttin.org.
Donate items such as water, sunscreens, new underwear, socks and non-perishable food items to help people experiencing homelessness. Contact the Metro outreach team by emailing keith.alexander@nashville.gov to find out where to drop off donations.
Consider a financial contribution. How's Nashville assists people with up to $1,000 in move-in costs per household, and there is an urgent need to replenish the community's fund. Donations are tax-deductible. For more information, email april.calvin@nashville.gov.
To learn more about the work of the Metro Homeless Impact Division, visit: http://MHIDNashville.weebly.com or https://www.nashville.gov/departments/social-services/homeless-impact-division.
MDHA needs landlords willing to accept Section 8 Housing Choice Vouchers. This program provides low-income individuals and families an opportunity to find affordable housing in the private market. Currently, more than 700 landlords accept the more than 7,000 vouchers administered by MDHA. If you are a landlord and would like more information about the program, please email section8@nashville-mdha.org.
The Low Barrier Housing Collective is a collaboration among support service providers, landlords and community members in Nashville dedicated to ending homelessness. Based at the Metro Homeless Impact Division, the Collective connects individuals and families experiencing homelessness to private market units that offer flexible screening criteria in exchange for benefits designed to stimulate landlord participation and mitigate risk for the property owner. For more information, visit http://www.nashville.gov/homeless.
Join a listserv of nearly 700 interested agencies and individuals who want to end homelessness or attend a meeting of the Nashville Coalition for the Homeless and the CoC. For more information, email stolmie@nashville-mdha.org.