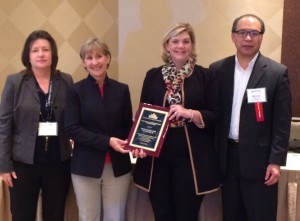 The Metropolitan Development and Housing Agency, on behalf of the city of Nashville, has received one of the 2016 Audrey Nelson Community Development Awards by the National Community Development Association (NCDA). The awards were presented Friday, Jan. 22 at the NCDA Winter Conference in Washington D.C.
The award honors communities which exemplify outstanding achievement in service to neighborhoods and persons of low-income through their innovative and exemplary use of the Community Development Block Grant (CDBG) Program and the HOME Investment Partnerships Program. MDHA administers these funds, awarded by the U.S. Department of Housing and Urban Development (HUD), on behalf of the Metropolitan Government of Nashville and Davidson County.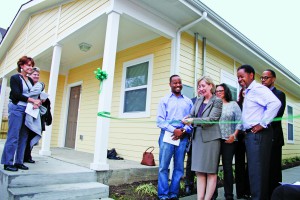 The local award highlights a HOME-funded project at 1009 Second Avenue South developed by New Level Community Development Corporation (CDC) targeted to the chronically homeless.
"This project is a great example of how not-for-profit organizations using federal funding can work together to solve problems facing Nashvillians," said Mayor Megan Barry. "It is wonderful to see Nashville recognized for our collective efforts to end homelessness through housing, and to provide for a better quality of life in Davidson County."
The $631,628 project received $599,747 in HOME funding.
"HOME funds are crucial to addressing the affordable housing crisis in Nashville because it's one of the few resources that can be used for the construction of affordable housing," said Angela Hubbard, MDHA director of community development. "This project is a prime example of how lives are changed because of housing."
The project consists of eight one-bedroom units and provides permanent supportive housing for chronically homeless individuals receiving services through various partner agencies. One of those partner agencies is The Next Door, a faith-based nonprofit organization that provides services for women and their families impacted by addiction, mental illness, trauma and/or incarceration. It's the agency Sharon Parsons turned to when she needed help.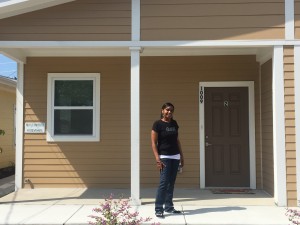 Parsons' story is one of survival. After abandonment by her parents, struggling with addiction for 20 years and spending time behind bars, Parsons decided it was time to take her life back. When Parsons graduated from The Next Door's recovery program in 2014, she moved into one of New Level CDC's brand new affordable housing apartments. "These eight units are targeted to help people who are finishing up a program and need the next step," said Kay Bowers, New Level CDC executive director. "They are working, but don't have the earning capacity yet to rent market-rate housing. To maintain stability, housing costs must be affordable for their current income level."
It's been nearly 15 months since Parsons moved into her place, and that stability has made all the difference. She's received a raise at her job and been offered a manager trainee position.
"Without this opportunity, I would have probably wound up back on drugs and back in jail," said Parsons. "Having a home has given me my life back."