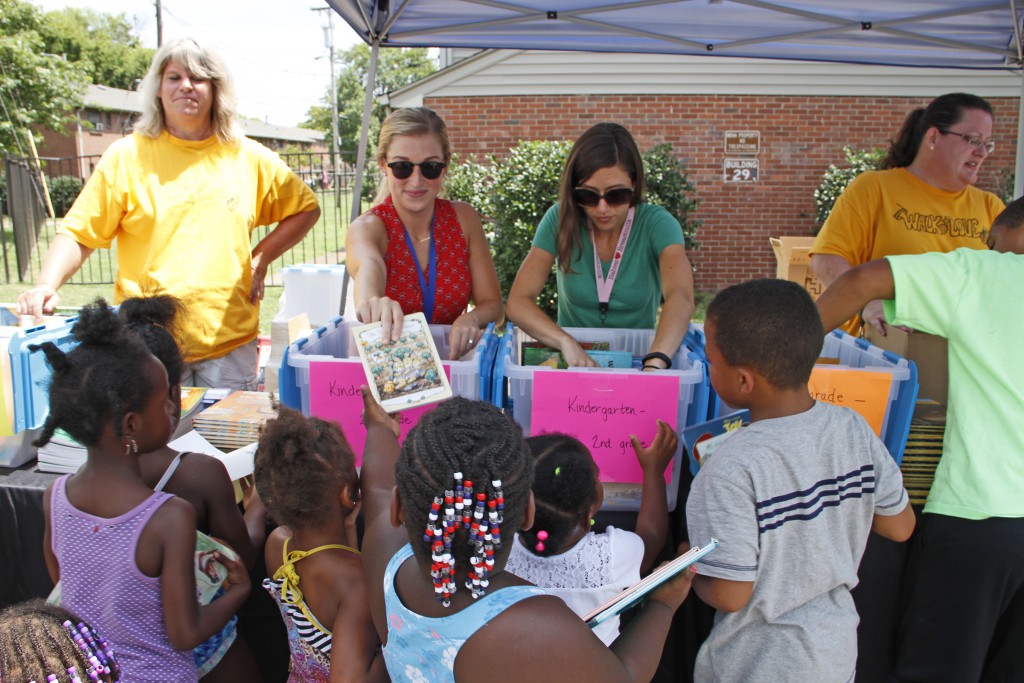 Sudekum Apartments resident Kenyatte Wilson takes her three children to the public library each week, and now they have a library in their home thanks to Elijah's Heart, The Home Depot and the Sudekum Leadership Team.  Organizers hosted a book drive on July 20 at Sudekum Apartments, one of the Metropolitan Development and Housing Agency's public housing properties in South Nashville.
"Reading is the key to academic excellence. We want to put them on a good path," said Social Services Coordinator Janet King, who works with families at Sudekum Apartments and organized the literacy awareness campaign .Elijah's Heart Co-Founder Joe Bradford said putting books in homes helps get children reading on or above grade level.
"For a child to be a great learner, you have to be a great reader. And to be a great reader, you have to have books," said Bradford, known as Papa Joe. "We want to show love to the community, and giving the gift of books is one of the greatest gifts of love."
While children and their parents selected books during the drive to give away 2,500 books, Home Depot associates and volunteers assembled and stained bookcases on-site. The home improvement company contributed $5,000 in in-kind donations of lumber, stain and other supplies, which was enough to build 100 bookcases. Brentwood Store Manager Melvin Forman called the project The Home Depot's way of "taking care of customers."
Ladeisha Thomas, who lives in Sudekum Apartments, said she reads with her sons daily and has already seen its positive effects. As her 6-year-old son eagerly looked at a table overflowing with books and leafed through a hardback on football, she said reading has helped him learn to pronounce sounds and overcome a speech impediment.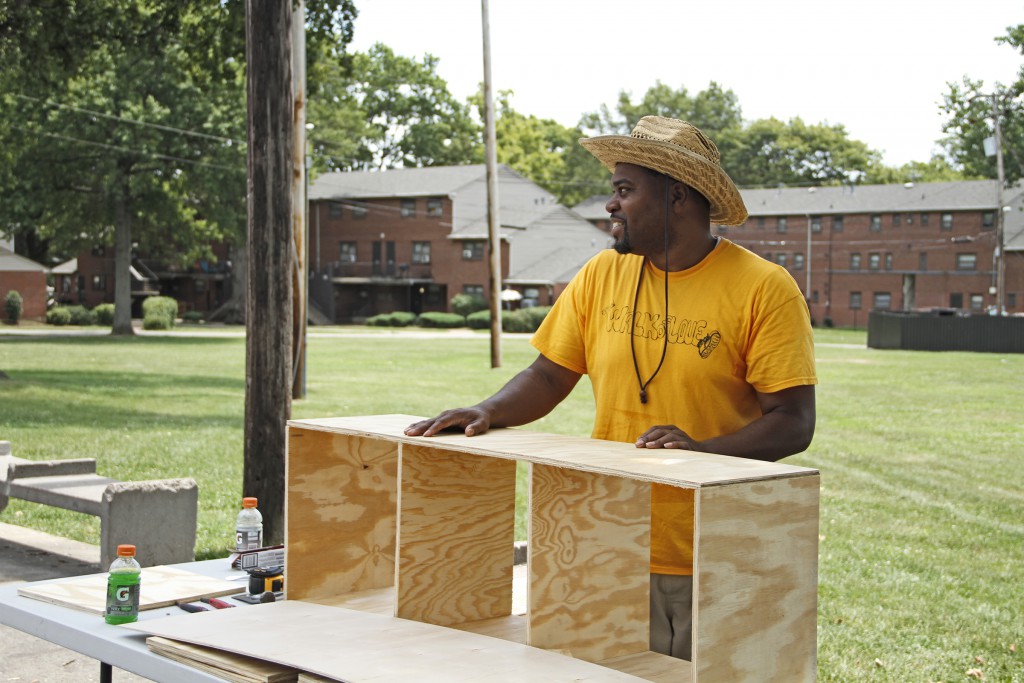 "Books are their future. The more books they have, the higher chance they will stay in school, graduate and go on to college," said Mrs. Tennessee America 2015 Cheryl Brehm, one of the many volunteers. "This is about catching their attention with books that grab their interests to awake a love of reading in them as a child."
Bradford and Elijah's Heart co-founder Denise Bradford, also his wife, will help deliver The Home Depot-built bookcases to Sudekum children in August. The Bradfords, also former MDHA residents, have collected 50,000 new and gently used books and will hold similar book drives at other Nashville public housing properties.
Watch and read recent coverage of the literacy awareness campaign on WKRN, WSMV, NewsChannel 5 and Fox 17.