Garage Meets Growing Need for Downtown Parking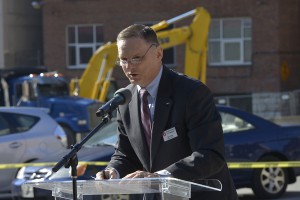 Metropolitan Government of Nashville Mayor Karl Dean joined the Metropolitan Development and Housing Agency to break ground Thursday morning on a garage with retail space to meet Nashville's growing need for downtown parking.
"It's no secret that Nashville is one of the fastest-growing, most exciting cities in the nation, and our downtown is getting busier and busier," Mayor Dean said. "We have more people living, working and visiting downtown and that means more people need places to park their cars. Once this garage is built, it will make our downtown an even more attractive place to live and work and visit for years to come."
Joining Dean and MDHA Executive Director Jim Harbison for a ceremonial groundbreaking and unveiling of the project's rendering were MDHA Board Chairman Ralph Mosley, Developer and MDHA Board Member Jimmy Granbery, R.C. Mathews Contractor President Walker Mathews and EOA Architects Partner Gary Everton.
R.C. Mathews Contractor will handle the construction of the $35.5 million project with civil engineering by Littlejohn and design by EOA Architects. MDHA will own and operate the facility, which is expected to open in late 2016.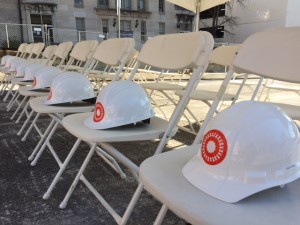 The 12-story complex replaces a surface lot at the corner of Fifth Avenue North and Church Street. Although construction plans are not yet complete, the current design calls for approximately 900 parking spaces and more than 17,000 square feet of retail space. The all-glass store front will be on two floors.
"With this parking garage, MDHA is fulfilling a critical aspect of downtown mobility that sways our city's economic viability as well as the tourist experience. This public project, while privately funded, ultimately will benefit our city's visitors, working professionals and its urban residents," Harbison said.
Nashville Public Works' recent Multimodal Mobility Study revealed parking is a top mobility challenge in the downtown area and expressed the need for an effective parking supply in Nashville's downtown core.
"MDHA is happy to work with civic groups to address a downtown need, and we're proud to provide this service to the community as our great city continues to grow. Speaking of growth, this construction project is going to add 200 jobs to our city," Mosley said.