04 Jun

A Statement from MDHA's Executive Director

MDHA Residents, Partners and Friends,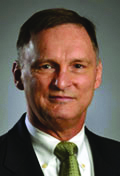 I struggled with whether to speak up during these troubling times, worrying that my words might inadvertently offend.
As I reflected on the value of sharing my thoughts, a quote from Dr. King came to mind: "Our lives begin to end the day we become silent about things that matter."
My soul grieves for George Floyd and his family. His senseless death is profoundly troubling and wrong, and is but the most recent tragedy that has devastated our nation. My sense is that many of you, like me, are likely hurting right now.
To our residents who are struggling during this time, I encourage you to call your management office so that staff can get you in touch with our social services coordinators.
Now, more than ever, we must do what's right. We must treat everyone equally and speak up when we see matters of racial injustice.
Rest assured, MDHA stands in solidarity with all who are raising their voices and calling for equal justice under the law.
One more quote comes to me as I worry for the health of our nation, our Nashville, our communities, our residents, each other and our families: "With malice toward none, with charity for all, with firmness in the right, as God gives us to see the right, let us strive on to finish the work we are in to bind up the nation's wounds… to do all which may achieve and cherish a just and lasting peace among ourselves and with all…"  President Abraham Lincoln, March 4, 1865.
My thoughts and prayers are with our nation and all of you.
Jim Harbison
MDHA Executive Director